Assessing Learning & Progress
Assessments & Progress
At Coppice we have a holistic approach to assessing the progress of our pupils.  Due to their differing needs and difficulties we pull together information from a range of sources to provide us with the view of the pupil as a whole.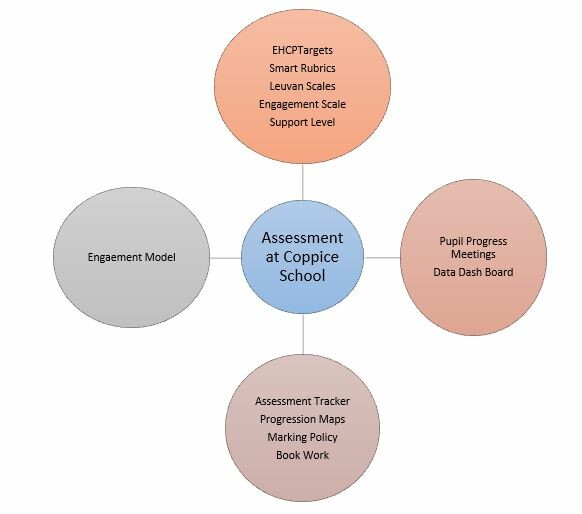 Colour Progression Bands
Our Curriculum is organised along developmental milestones, skills and knowledge, which is organised along colour progression maps.  Through observation assessments, differentiated work and staff knowledge of the pupils they are assessed against the key descriptors in each colour provision band.  Within each band they can be emerging, developing or secure within these bands.  We are also aware that our pupils may be different colour bands in different subject areas.
Smart Rubric GOALS
Smart Rubric GOALS is a bespoke tool made just for teachers of students with SEN to track and celebrate pupil progress against both curriculum targets and completely personalised, individual goals.
Teachers input all pupils' medium EHCP targets on to Smart Rubric GOALS, they are then broken down into five smaller targets. Teachers assess each target formatively throughout the term, identifying which step the pupils can consistently achieve. Teachers attach evidence such as photos or a piece of work to support the assessment.

Progression Maps
Is a document created using the Equals Development Framework, SEND Tapestry and Development Matters Framework. Broad objectives are created for each level/colour band of progression. Objectives are sequential in progress and added to a tracker each half term.



Pupils Progress Meetings
Each term a member of the leadership team will meet with class teachers to discuss pupils working above or below expected targets. External and or internal support will be provided to support each individual pupil.
Data Dashboard
Every half term teachers analyse their assessment tracker data and smart rubric data to record whether pupils are on target, or working above expected or below expected in the following areas:
EHCP Targets

Maths

English

Additional Progress

Leuven Scales


Engagement Model
'The engagement model is an assessment tool that helps schools meet their duties in supporting pupils who are working below the level of the National Curriculum and who are not engaged in subject-specific study.' DfE
P1 – P4 (Pink and Red Learners)
'Engagement identifies and celebrates all pupils' progress, including linear and lateral progress, the consolidation and maintenance of knowledge, skills and concepts and the prevention or slowing of a decline in pupils' performance, whilst recognising that a minority of pupils may have a regressive condition.' DfE
'Engagement can help schools reflect on how well the bespoke curriculum they offer to their pupils is helping them progress. It will not necessarily replace a school's existing plans, assessments and reporting systems, but adds value to them by helping schools assess pupils' progress from a different angle.' DfE
All Pink and Red Learners at Coppice will have an Engagement Profile
Once these are in place – Pink and Red Learners will be assessed against their Engagement Profile – using an Engagement Tool
If they are engaged – recording how this has been achieved.

You are assessing how the curriculum you provide engages the learner

If engagement is not happening then learning will not be happening
Annual Reports will report on the five aspects of Engagement for Pink and Red Learners.


Phonics assessments
As a part of the ELS Phonics Scheme, all pupils accessing Phases 2-5 Phonic sessions take part in adapted 5 weekly phonics assessments, to support staff to identify areas of support needed and progress made.