Bees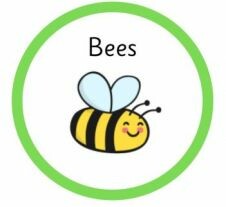 Welcome to Bees Class

Our staff team:
Who we are from left to right Lorraine, Olivia, Nicola & Kirstie
In Bees Class we love to….
Explore

Play

Be Active

Get Messy
Our themes this year are; 
Autumn Term 1 – Animal Antics

Spring Term 1 – Heroes & Helpers

Summer Term 1 – Rockets & Robots
In our class we love to read (or share stories about) a wide variety of books to suit our topic, this term we have enjoyed 'Rumble in the Jungle', 'Brown Bear Brown Bear', 'The Tiger Who Came to Tea' and 'Rainbow Fish', amongst many others. However, our favourite choice for story time, the one that our children request almost daily is…. 'My Cat Likes to Hide in Boxes' by Eve Sutton. And when our staff naughtily hide this book, our second choice is always 'The Very Hungry Caterpillar' by the fabulous Eric Carle.
Busy Bees class is unique and special because…. every minute of every day, we push ourselves beyond our comfort zone and overcome many difficulties with our sensory regulation and needs. We tolerate social interactions that may be strange to us and need a lot of our focus. We also deal with the everyday stresses of life, both within school and beyond and yet, with all this ever present we try our very best with all our activities and engage to the best of our ability. When you consider how hard we are actually working every minute, you will realise that we are truly amazing and even when it looks like we are resting, believe me inside we are still giving it 100%.

In Bees Class, we strive towards our shared vision by:
Learning through play and exploration.  We use different sensory therapies to help us learn about and tolerate the world around us and to help us build relations with our Teachers and our classmates.  Alongside the activities we do to help us learn and explore, we also learn skills that help us become more independent and give us a way of communicating our own voice.