Holly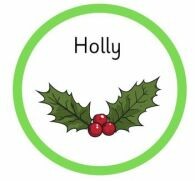 Welcome to Holly Class

Our staff team:
Who we are from left to right; Sara, Drew, Nat & Ivana

In Holly Class we love to….
Explore with water, sand and our mud kitchen

Create using scented playdough, paints and food

Dance and listen to music whilst making our own sounds with instruments

Be mindful with massages, tacpac, story massage and yoga

Our topics this year are;
Autumn Term – Animal Antics

Spring Term – Helpers & Heroes

Summer Term – Robots & Rockets
In our class we love to read (or share stories about) Dear Zoo, Ravi's roar, The lion inside and Monkey puzzle to name a few.
Holly class is unique and special because our young people are fearless, brave and self-confident. They are active learners, with a natural curiosity to figure out how the world works using all seven of their senses. Holly class are keen to explore and ultimately discover their own capabilities and gain an improved understanding of the world around them. Holly class are extraordinary!


In Willow Class, we strive towards our shared vision by:
Providing bespoke activities and therapies to meet children's individual needs.

Creating an environment which allows for communication, socialisation, physical development, exploration and learning.

Providing outdoor learning and activities daily.

Encouraging sensory alignment through therapies.

Ensuring learning is active, purposeful and fun!