Post 16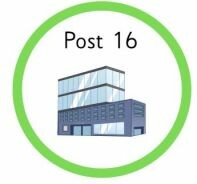 Welcome to Post 16
 Meet the Team
The aim of our Post 16 Curriculum is to provide all our learners with meaningful and individualised learning experiences to prepare them for life after Coppice.
Learner aspirations are at the heart of our curriculum and learners receive a challenging and personalised curriculum that centres around meaningful EHCP outcomes. The curriculum is built around learner interests whilst returning to the core values of the Preparing for Adulthood areas.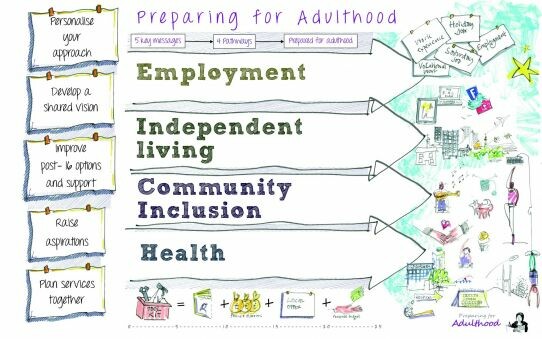 Learners follow the four main areas of Preparing for Adulthood.
The curriculum builds on real life experiences and project based learning with accreditation linked where appropriate so learners can achieve qualifications as well as building the skills to prepare them for life after Coppice School.


There are three pathways within Post 16; 
Preparation for Further Education and Employment

Preparation for Independent Living and Employment

Preparation for Supported Independence and Community Inclusion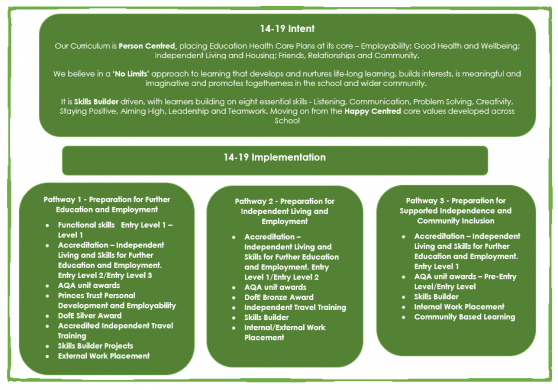 All learners work towards Open Awards accreditation in Independent Living and Skills for Further Education and Employment. Learners also work towards sitting Functional Skills exams Entry Level 1 - Level 1. Where this is not appropriate, learners work on developing everyday English and Maths skills through a holistic curriculum driven by employability and independent living.
For Post 16 assessment and performance data click here.
The World of Work
Enterprise
Employability is a core focus within Post 16 with all learners contributing to a number of Enterprises. We have access to a market stall within Doncaster Market, with a rotating program of Cricut Personal Designs, Floristry and Second Hand Clothing. Within school, we have a Cafe, serving staff and pupils across the week as well as seasonal enterprises. The whole process is lead by learners with profits reinvested into the enterprise or put towards enrichment activities.
Coppice Make and Sell - Click Here to see our current products 
Coppice School were named as Young Enterprise winners for South Yorkshire at a grand ceremony held at The EcoPower Stadium. Learners presented to over 100 people and held a question and answer session with dignitaries from local businesses. Learners also had the experience of holding stalls at trade fairs in Leeds and Rotherham, again victorious as 'Best Trade Stand' winners at the White Rose Centre in Leeds.


Work Experience
We believe all learners should experience the world of work. We endeavour to offer bespoke placements based around learners' areas of interest, where external placements are not appropriate, learners can apply for internal positions including Office, Retail, Hospitality and Catering, Grounds Maintenance, Horticulture and Childcare.
External placements are offered to those who are ready to access the world of work - these include Education, Social Care, Retail, Hospitality, Print & Design, Travel and Tourism. 
All work experiences and placements are personalised to our learners needs, our support staff act as 'job coaches' providing the appropriate level of support and gradually fading as the learner builds confidence and skills.
Independent Living and Community
Harmony House
All learners have access to Harmony House in Bentley. Here they follow their 'Daily Living Skills' program - planning and preparing simple meals, using kitchen appliances, following a personal care routine, looking after a house.


Community Visits
A huge emphasis is placed is placed on accessing our local community. Learners plan and participate in a number of leisure activities, work towards joining local clubs and groups, access supermarkets and shops and visit cafes and restaurants. All community visits are based on learners' needs, interests and hobbies.


Independent Travel Training
Where appropriate, learners follow a robust Independent Travel Training program, supported by a qualified travel training coach, building their skills on making journeys on foot and on various modes of public transport. Those who are able to will complete Open Awards accreditation at Entry Level 2 or Entry Level 3. 
All learners will follow a bespoke plan ranging from experiencing road safety, awareness and stranger danger through to supported travel by foot and on public transport.
Duke of Edinburgh's Award
To enrich the education offered, learners have access to work towards the Duke of Edinburgh's Award (DofE), this is a non-competitive, internationally recognized program designed to encourage young people to develop positive skills and lifestyle habits. 
We currently have Bronze and Silver Award cohorts. In Spring 2022, 6 of our learners completed their Bronze Award, completing an expedition that culminated in camping at Squirrel Wood. In 2023, we have 6 more young people working towards their Bronze Award and 9 working towards their Silver Award which will involve a 3 day expedition.
Residential Opportunities
As part of our enrichment offer, we encourage learners to participate in a residential. In Summer 2022, 6 of our Pathway 1 learners took part in a 5 day residential to Merksplas in Belgium. Here they participated in the Special Olympics and competed against other young people from the Netherlands, Begium, Germany and Poland. One of our learners came home with 4 gold medals!
In Spring 2023 we are planning for most of our learners, across the pathways, to participate in a 4 day residential to Northern France.


The Bridge

Our Pathway 1 and Pathway 2 learners will access our off-site provision at The Bridge during the week. This is a 'Multi-Agency' Hub providing a 14-16 offer for young people from Coppice, North Ridge, Heatherwood and Pennine View.
Click Here for more information about The Bridge
Life After Coppice

We have strong relationships with local Post 19 education providers and those who offer community learning. We ensure that all learners have a robust transition and can make informed choices over the next stage in their lives. Through annual reviews of the Education, Health and Care Plan, and as part of the learners curriculum, we will work with learners and their parents/carers from the earliest opportunity. This allows us to build a transition plan that meets learner needs and aspirations.
Click here to see Destination Data for the previous 3 years.