Rowan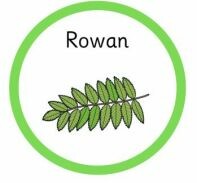 Welcome to Rowan Class
Our staff team:
Who we are from left to right (Kris, Linda, Bex and Ellouise)
In Rowan Class we love to…
Get creative with lots of arts and crafts

Build fortresses using various equipment

Dance and get active in our classroom and outdoor areas

Be kind, friendly and care for our friends and adults.


Our topics this year are;
Autumn Term – Animal Antics

Spring Term – Helpers and Heroes

Summer Term – Robots and Rockets
In our class we love to read (or share stories about) – Ronald the Rhino, The Runaway Iceberg, Rumble in the Jungle; just to name a few. Our children have absolutely loved animal themed stories and they have been getting stuck into role play and imitating their favourite characters.
Rowan class is unique and special because we love being curious and using our exploration skills. We are a very active class and like to experience many different areas and environments when completing our learning.
We are very independent and we like to use lots of different resources to support our learning. In Rowan, we love working with words and numbers and you can often find us singing along to our favourite counting songs. We follow routines brilliantly and we love having visitors who are happy to share our favourite resources with.


In Rowan Class, we strive towards our shared vision by:
Providing opportunities to develop independence and self-help skills.

Promote healthy and active lifestyles through the use of Physical Active Learning (PAL).

We provide opportunities for pupils to use their voices to express their needs, feelings and thoughts, through the use of sign, symbol and verbal communication.

Enabling pupils with the ability to recognise their emotions and equip them with strategies to self-sooth and regulate, when needed.