Butterflies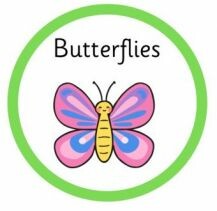 Welcome to Butterflies Class

Our staff team:

Who we are from left to right Sarah, Emily, Sharon & Nicola

In Butterfly Class we love to….
Dough Disco

Be creative

Share a story

Be outside


Our topics this year are;
Autumn Term 1 – Animal Antics

Autumn Term 2 - Animal Antics

Spring Term 1 – Helpers and Heroes

Spring Term 2 - Helpers and Heroes

Summer Term 1 – Robots and Rockets

Summer term 2 – Robots and Rockets
In our class we love to read (or share stories about) – Roar, Dear Zoo and Polar bear polar bear what do you hear, we have enjoyed copying the animal sounds from these books and trying to guess or match the animals from the story.

Butterfly class is unique and special because we are:
Beautiful
Unique
Talented
Terrific
Energetic
Resilient
Fun
Limitless
Incredible
Enthusiastic
Strong


In Butterflies Class, we strive towards our shared vision by:
Offering a range of activities throughout our sessions that encourage pupils to make their own choices.

Offering experience and exposure to new experiences, pushing boundaries and allowing challenge building confidence and the ability to regulate.