Caterpillars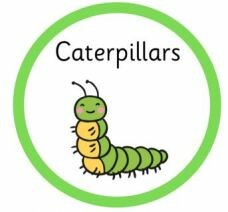 Welcome to Caterpillars Class

Our staff team:
Who we are from left to right: Lydia, Michaela and Ashlie.


In Caterpillars Class we love to….
Make lots of art. Our favourite type in particular is paintings!

Read and experience sensory stories.

Go outdoors! We really love dancing in the rain and playing with the leaves in the wind.

Listen to and make music. It's another opportunity for singing and dancing!


Our topics this year are;
Autumn Term: Animal Antics

Spring Term: Helpers and Heroes

Summer Term: Robots and Rockets
In our class we love to read! This term we have been reading two fabulous books. Our first book is The Chimpanzees of Happytown. This book is about a chimpanzee who lives in a town called Drabsville; very dark, dull and grey. The chimpanzee eventually turns his hometown into Happytown, a place full of colour and cheer. We really loved the book as it was a great opportunity to explore colours and how they made us feel. Our second book is called Matisse's Magical Trail, about a snail named Matisse who loves to make art all around the town. We love this book in Caterpillars Class as we love to draw and make art too!
Caterpillars Class is unique and special because we never fail to amaze everyone that we meet. We love to WOW! We are only small but we are mighty, with huge personalities that shine super bright. Caterpillars Class are a team that work together and no Caterpillar is ever left behind!


In Caterpillars Class, we strive towards our shared vision by:
Offering a range of activities throughout our sessions that encourage pupils to make their own choices.

Offering experience and exposure to new experiences, pushing boundaries and allowing challenge building confidence and the ability to regulate.