J2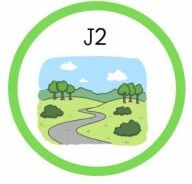 Welcome to J2 Class
Our staff team:
Who we are from left to right Jane, Emily, Sara, Andrea and Megan


In J2 Class we love to….
Make playdough! We especially love sprinkling flour everywhere.

Bake, our favourite part is tasting all the ingredients.

Share stories. Funny voices, puppets and sensory stories always make us smile.

DJ and sing! On an afternoon you can always find us making music and dancing to our favourite songs.


Our topics this year are;
Autumn Term – Animal Antics

Spring Term – Heroes and Helpers

Summer Term – Robots and Rockets
In our class we love to read (or share stories) that we can explore with all our senses. Sensory stories are a key part of our learning, one of our favourite this year has been 'A Squash and a Squeeze' by Julia Donaldson. We especially loved all the funny voices for different characters.
J2 class is unique and special because we are full of personality and all so different. We communicate through lots of ways from eye gazing to speech sounds but always make sure our voices are heard. We are also super cheeky and always make people laugh and smile with pride!


In J2 Class, we strive towards our shared vision by:
Developing positive relationships through group activities and collaboration.

Building confidence to communicate our ideas and opinion.

Achieving our goals through resilience and not being afraid to make mistakes.

Asking for help and support when we need it and helping and supporting each other.

Developing and using appropriate strategies for self-regulation.