J5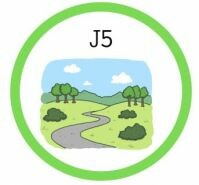 Welcome to J4 Class

Our staff team:
In J5 we love to….
Sing songs and make music

Explore outside

Make our dinners at Harmony House

Experiment with different ways of making art, pictures and sculptures

Our topics this year are;
Autumn Term – Animal Antics
Spring Term – Helpers and Heroes
Summer Term – Robots and Rockets 
In our class we love to read (or share stories about) animals. We have looked at Fantastic Mr Fox and we have really enjoyed finding out facts and identifying different animals. We like looking at recipe books and the delicious pictures!
J5 are unique and special because we like to laugh. We never give up. We will have a go and we try our best!