Ladybirds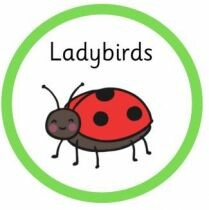 Welcome to Ladybirds Class

Our staff team:
| | | | |
| --- | --- | --- | --- |
| | |   | |
Who we are from left to right : Rhian, Natasha, Becky & Phoebe
In our class we love to....
Get messy with our creative painting, clay and craft activities.
Explore in the sand and water.
Play with our favourite toys and explore the sensory equipment.
Be active! We love our outdoor areas where we are able to run, climb and explore water.
Practise our fine motor skills in dough disco to keep our fingers moving and copy actions to make different shapes, our favourite dough disco in Ladybird's is Baby Shark!
Take part in intensive interaction sessions and therapies to help us build bonds with the adults that know us best and help us to learn to self regulate.
The books we are reading this term are....
Commotion in the Ocean by Giles Andreae
Goldilocks in Space by Peter Bentley 
Tyrannosaurus Drip by Julia Donaldson
Leaf Man by Lois Ehlers
We strive towards our No LIMITs vision by... 
embracing our love for learning through meaningful play and creativity. Working together as a team to gain the confidence to explore and be provided with the means and opportunities to communicate, so that they have the tools to learn, build relationships and begin to understand the world around them and by celebrating each other's successes!