Ladybirds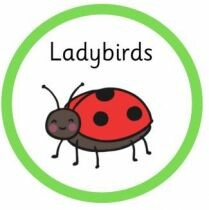 Welcome to Ladybirds Class

Our staff team:
| | | |
| --- | --- | --- |
| | | |
Who we are from left to right : Jo, Natasha & Emily

In Ladybirds Class we love to….
Explore the outdoors, we love our outdoor areas to be able to run, climb and explore water.

Join in with our active phonics sessions, in our favourite songs one uses a parachute to move to the music and the other uses drums to keep the beat!

Practise our fine motor skills in dough disco to keep our fingers moving and copy actions to make different shapes.

Take part in intensive interaction sessions and therapies to help us build bonds with the adults that know us best and help us to learn to self regulate.


Our themes this year are;
Autumn Term – Animal Antics, where we explored different types of animals, through song, stories and our art work.

Spring Term – Heroes and Helpers, where we will explore the emergency services, how to care for people and animals and superheroes including Supertato!

Summer Term – Rockets & Robots, where we will learn to build with purpose, explore space, planets and stars and learn about machines that move and help us.

In our class we love to read (or share stories about) – Sensory stories are our favourite, we listen to stories and have sensory experiences linked to each sentence, our favourites so far have been Giraffe's Can't Dance and Poles Apart.
Ladybirds class in unique and special because…. Because Ladybirds class is often the first stepping stone into Coppice school, where our personalities begin to shine, we learn our voices are heard and what we have to communicate is important, we begin our journey of learning and begin to discover our true potential.
In Ladybirds Class, we strive towards our shared vision by:
Providing the children with a safe and enriching environment, where they can learn through play, develop at their pace, gain the confidence to explore and be provided with the means and opportunities to communicate, so that they have the tools to learn, build relationships and begin to understand the world around them.